Scope Roller
Building specific solutions to your equatorial mount needs.

I have sold ScopeRoller to a U.S. citizen in Poland. Normal operations will resume first week of September.

I have been doing this since 2005. While I have enjoyed doing both for what I have learned and for helping others get more use out of their telescopes, it takes too much time away from teaching and writing.
Recent Price Increase
I increased prices on most products 1/24/17 as a result of doing a careful manufacturing cost analysis, and discovering that I was selling these at my cost in many cases.
And again on 11/5/18, because I am currently writing my tenth book and preparing to teach American History in the Spring semester. I need to be less busy.
I am in the process of selling ScopeRoller to a U.S. citizen in Poland. If you live in North America, place your order before the end of July to enjoy the lower shipping charges.
I have been doing this since 2005. While I have enjoyed doing both for what I have learned and for helping others get more use out of their telescopes, it takes too much time away from teaching and writing.
Casters
Advantages and Limitations
The obvious advantage of the ScopeRoller product is ease of use. Right now, you have to take your telescope tube off the mount, disconnect cables, carry all the parts outside, and then reassemble. At the end of the evening, when it is cold and dark, and you are cold and tired, you have to repeat the process. With ScopeRoller, you just roll your telescope outside--and at the end of the evening, you just roll your telescope back inside.
There are some limitations, however. ScopeRoller raises the height of your telescope by a few inches, and for some observers, that may be the difference between standing at your telescope, and needing a stepstool. Of course, moving a stepstool out is still a lot easier than disassembling your telescope every time you want to use it!
Raising the height of your telescope also means raising the center of gravity--so you need to be a bit more careful to make sure that you don't tip it over while moving it. Hold onto your telescope fairly low, and make sure that you don't get one wheel caught on a sidewalk divider or a rock. Of course, if you take everything apart and carry it outside, you might trip and drop your tube or mount also....
Anything on wheels is going to be a little less stable than having a tripod sitting on solid ground, okay? A few customers have reported that while fine for visual use, there is a bit too much vibration introduced by the casters for astrophotography. We haven't had any problem doing astrophotography, but then again, we aren't doing 30 minute exposures, either.
A few customers have also complained about excessive play in the caster lock causing them to lose alignment on the North Celestial Pole, because the inertia of the telescope and mount couples energy down into the tripod. We have since added a plastic washer into the caster assemblies that reduces the play from a few hundredths of an inch when locked, to a few thousandths of an inch. (Existing customers can obtain this as a field upgrade kit.)
Even with this plastic washer, two customers have discovered that our product has a bit too much play when locked to do astrophotography. How much is too much play? As we measure it, we're talking about at most a few hundredths of an inch of motion as a result of moving the telescope after locking the casters, or fiddling with filters. If your primary focus is astrophotography, ScopeRoller might not be the best choice. We haven't done a lot of long exposure astrophotography with our product. Exposures of a couple of minutes seem to work just fine. (One of those customers tried ScopeRoller because ScopeBuggy had the same problem. There might not be a zero motion caster out there.)
One of my customers sent a picture of of his scope mounted on ScopeRoller Deluxe5 casters--and some long exposure astrophotos he took--more than two hours. You tell me: are these good enough?

click to show

click to show

click to show
Here's another satisified customer:
"I'm still having very good success with the ScopeRollers. While I still have to polar align each time out, the benefits of having my entire rig mobile is awesome. I can set up in a fraction of the time as before, and break-down is as simple as rolling everything back into the garage - 4 minutes flat and I'm in bed for the night! Autoguiding is as good as I've ever had, so I know the ScopeRoller platform is stable. Here are two images taken with the casters in place:
http://www.astrobin.com/37359/
http://www.astrobin.com/35435/B/"
My Pictures
Pictures that I have taken with my ScopeRoller equipped telescopes. I like to do astrophotography. I won't claim any great expertise, but these may interest you. In many cases, clicking on the picture will magnify it.
Unless otherwise noted, these were taken with a 2000mm f/4.5 reflector and a Pentax K10D camera.
Sun
Sun with sunspots; most are bigger than the Earth

Taken with a Photon Instruments 127mm f/9 refractor, ISO 100. 1/180th second, Thousand Oaks solar filter.
Moon

less than 1st quarter

Closeup a bit over processed

Closeup; not very sharp

Gibbous Moon overexposed and overprocessed

Gibbous Moon

Previous gibbous Moon improved with GIMP 1/250th sec., ISO-100.

Gibbous Moon awesome!

Gibbous Moon awesome!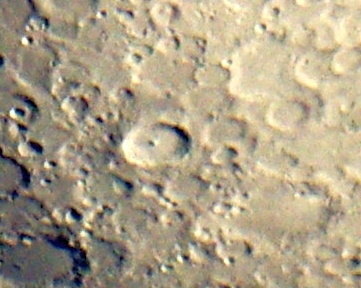 Gibbous Moon cropped for crater detail

Gibbous Moon awesome!

Gibbous Moon closeup less awesome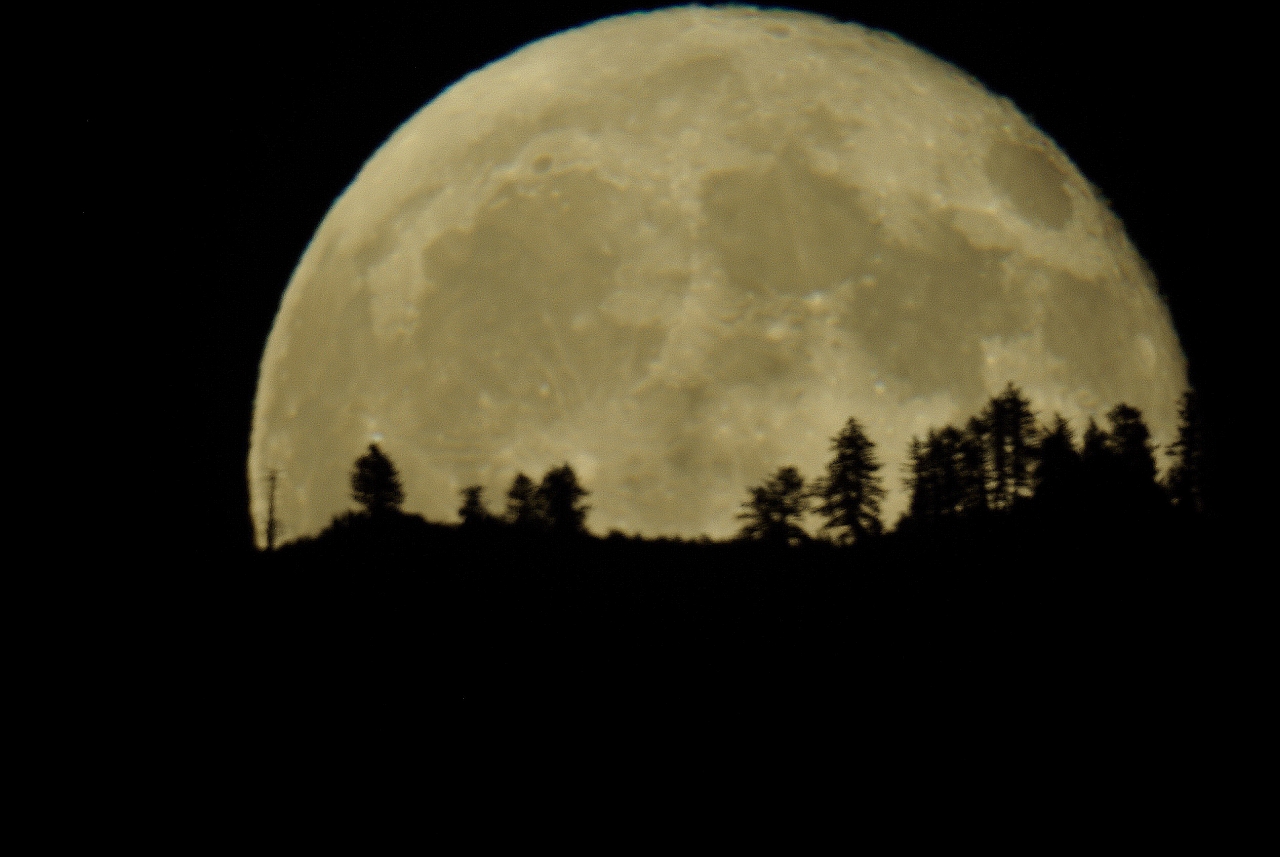 Full Moon rising through trees over Bogus Basin, a little out of focus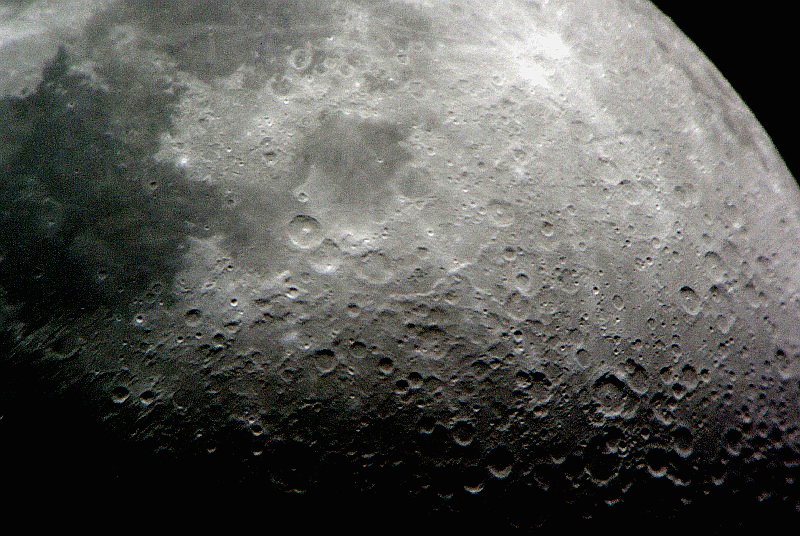 Closeup, not oversharpened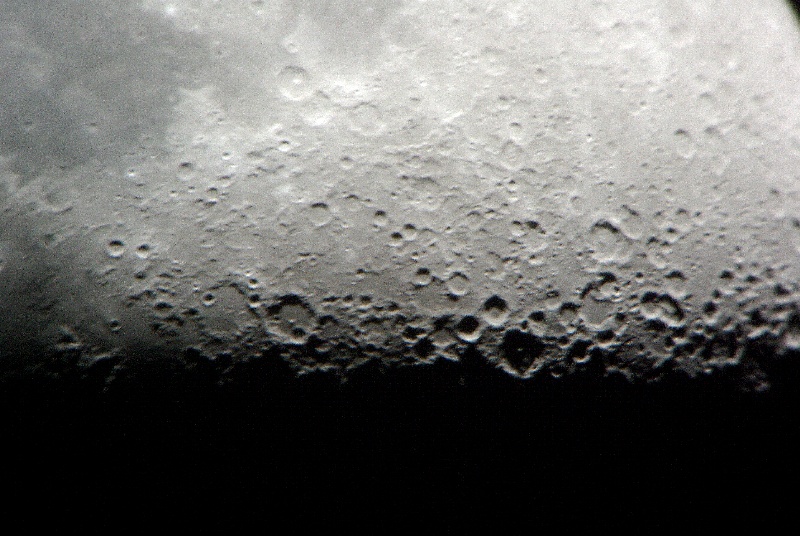 Closeup, pretty good

>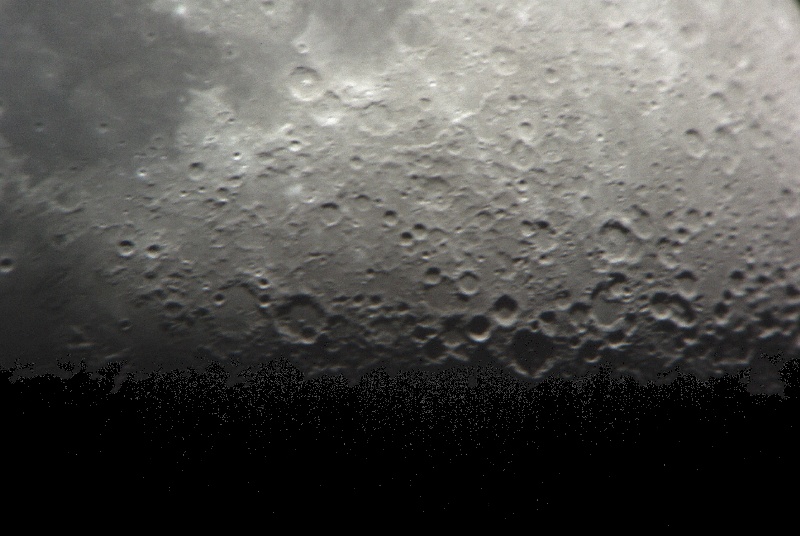 Closeup, pretty good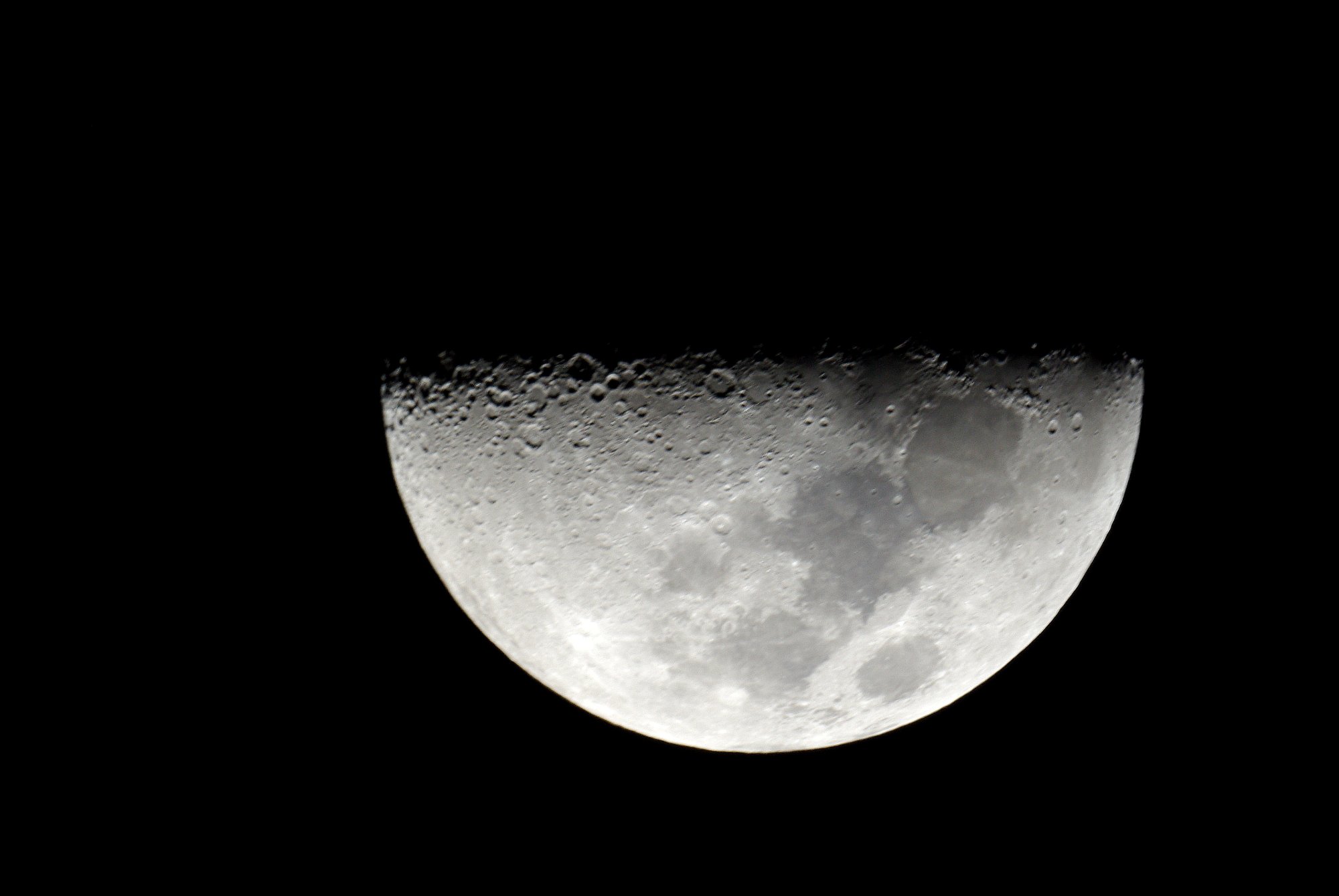 1st Quarter
Saturn

Saturn

Saturn a bit more magnification a bit over processed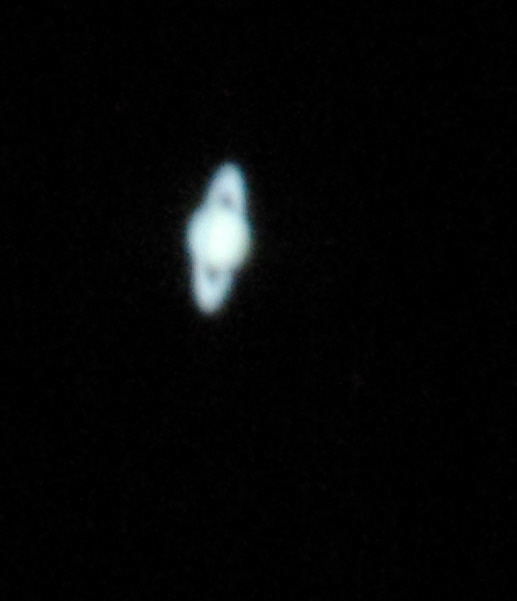 Saturn okay
M42 in Orion

Came out well

Longer exposure reveal tracking errors
Our Competition
At the current time, we have two competitors: JMI's Wheeley Bars, and ScopeBuggy. We haven't actually used either product, so what you see here is what we hear from our customers who have bought those products--and then bought ScopeRoller. Depending on your needs, you may want to buy the JMI product, or the ScopeBuggy product--or ScopeRoller! We want you to buy the right product for you, instead of buying ScopeRoller, and being disappointed because it doesn't satisfy your needs.

If you need to transport your scope across very rough ground, the ScopeBuggy or the JMI Wheeley Bars with the 10" wheels is probably a better choice than ScopeRoller. ScopeRoller is really better suited to smooth surfaces--although the Deluxe wheels will work okay on grass and relatively smooth dirt.

If you have several different telescope tripods of about the same size, the JMI or ScopeBuggy products may be a more cost effective solution, because you can use the JMI Wheeley Bars or ScopeBuggy for several different tripods. ScopeRoller is specific to a particular tripod. ScopeRoller is much less expensive than the JMI and ScopeBuggy products, so you might find that buying two ScopeRoller sets is no worse than buying one ScopeBuggy or JMI Wheeley Bar.

A number of customers have pointed out that the JMI and ScopeBuggy products, because they use a large frame to hold the wheels and the tripod, can sometimes block getting as close to the telescope as you would like--and if you aren't careful, it is possible to trip over that frame in the dark! ScopeRoller doesn't change the "footprint" of your telescope, and never prevents you from getting close to your telescope or mount.

The JMI Wheeley Bars have leveling screws, and this may be an advantage in certain circumstances.

The ScopeRoller solution weighs less than ten pounds (sometimes as little as three pounds), so you aren't paying a lot of money for shipping. Especially if you are outside of the United States, the shipping charge for our competitor's products can be quite substantial.
Installation
Here I am installing a caster set on a Losmandy G11 tripod.
Speed of Setup
Here I am demonstrating speed of putting my scope in action.
Compression Shims
Originally, I made ScopeRollers by boring a hole about .010 inch larger than the widest part of the tripod leg in plastic. This was slow and often required several tries to get it right for a customer. So I switched to square or rectangular legs. This solved the tolerances problem.
For a while, I included some metal shims that went between the bolts and the legs. The compression shims served two purposes: they protected the legs from cosmetic damage by the bolts that hold the ScopeRollers to the legs; they also provided a more precise fit with less jiggle once the bolts were bolted down.
I have stopped doing this; I encourage you to buy electrical or duct tape to wrap around the leg where the bolts will contact the leg. Wrap enough times to make it a close fit. This will protect the legs and eliminate .020-.030 of wiggle on each side. I stopped using the compression shims because some customers complained how sharp they were (.022" thick aluminum makes a fine knife; my wife insisted on this change while bandaging my hand.)
Three Different Versions
Most ScopeRoller caster products are available in a Standard, Deluxe, and Deluxe5 version.
Standard
The Standard version uses 3" diameter wheels, and adds about 5" to the height of your mount. The foot-operated brake locks only the wheel. For visual use, this is generally sufficient. The wheels on the Standard model have a recommended weight capacity of 135 pounds each--in most cases, far in excess of the weight of your mount, tripod, and recommended load. They add less than two pounds to the tripod, and require no alterations.
Deluxe
If you plan to do astrophotography, or you are going to be moving to a surface that is not completely level, order the Deluxe version, which also uses 3" diameter wheels, and adds about 4" to the height of your mount. The foot-operated brake locks both the wheel and the caster. Even after vigorous shaking, the mount will return to its original position. The Deluxe model casters have a recommended weight capacity of 210 pounds each.
Deluxe5
If you need to roll across gravel or grass, order the Deluxe5 version, which uses 5" diameter wheels, and adds about 6" to the height of your mount. The foot-operated brake locks both the wheel and the caster. Even after vigorous shaking, the mount will return to its orgiinal position. The Deluxe model casters have a recommended weight capacity of 230 pounds each.
Tolerances
A couple of customers have emailed with concerns about the caster assemblies feeling a little loose. When I ask them if they have actually used them for observing, the answer is always, "Not yet." That's the last I hear from them.
Design Improvements
For a number of years, our products were either an insert that went inside the tripod leg (such as for the Losmandy GM-8 or G-11), or were a round sleeve that bolted on the outside of the tripod leg. We are always looking for ways to make our products less expensive and more precisely made. As a result, we are beginning to replace the inside the tripod leg casters with ones that bolt on the outside. Also, the round sleeves are beginning to change to square or rectangular sleeves. These are held on by eight bolts instead of three. This reduces the force required to clamp them on the tripod leg, reducing finish damage to the leg and locking them more securely. See here for what the new square design looks like. This one doesn't have the eight bolts.)
Manufacturing
We keep improving our processes in the interests of precision and efficiency. Here we are drilling pilot holes with a CNC mill. We really don't need .0001" accuracy for this, but why not use it?
Tolerances
In order to make sure that the caster assemblies will fit tripods built over quite a range of years, I have to make sure that the fit isn't too tight. Some customers worry that the casters will be more wiggly than a tripod leg on the ground. Relax, gravity holds everything down pretty solidly. Even at 300x and above, everything is about as stable as if you put the tripod legs directly on the ground.
We provide dimension details on each product's page. It isn't a bad idea to measure your legs before you order. If you don't have a micrometer or calipers, you can buy them at Lowe's or Home Depot. (Lowe's sells an inexpensive one that measures to hundredths of an inch; Home Depot sells a very nice Starrett caliper that measures to about the same accuracy. Harbor Freight sells a range of calipers from cheap analog to thousandths of an inch. Little Machine Shop sells a range of calipers as well. Once you have a precision measuring device, you will wonder how you lived without it.
Vibration
What about vibration in the casters? Remember that rigidity sometimes increases vibration--having a little play between the caster assemblies and the inside of the tripod legs doesn't necessarily create a problem. Some customers have actually reported less vibration with the casters unlocked. If you need absolute rock solid rigidity for your five hour exposures of Pluto, this may not be the best choice. In general, I don't see that ScopeRoller adds any vibration to an existing mount.
Instruction sheets for every product are available online, listed under each product.
Why Did My Caster Set Arrive With Scratches And Dirt on the Wheels?
No, we're not recycling returned merchandise. Before we ship a caster set, if we have that model of tripod, we install them, and take them a spin to verify fit and function. Scratches on the insert models are because we make these to be a pretty close fit--and sometimes that means that there will be some scratches where the insert squeezed into our tripod leg.
Currently Supported Tripods
ScopeRollerTM TSL6 for the Stellarvue Maple Tripod tripod.
Coming Soon
We are busy developing a ScopeRoller product that attaches to Dobsonian groundboards or equatorial platform bases. It's easy to build something that works, but our goal is the same advantages as our current products, no alteration to your current telescope, minimal change in envelope, and low cost and shipping charges.